Accelerate Startup Ecosystem Development
Startup Genome is the world-leading innovation policy advisory and research firm. We have advised on the ecosystem development strategy and action plans of more than 145 government and agency clients across six continents in 50+ countries to date.

Upcoming Research Report
Scaleup Report Launching May 4 at Web Summit Rio
In this breakthrough research, we provide invaluable insights into the characteristics that separate startups that successfully scaled from those that failed.
Based on 100,000 surveys over 10 years and funding data on 3.5 million companies across 290 startup ecosystems.

Receive the report on launch day
GSER 2023 Launching June 15
Startup Genome's Global Startup Ecosystem Report (GSER) is powered by the world's most comprehensive and quality controlled dataset on startup ecosystems. Informed by information on 3.5 million startups across 290 global ecosystems, our data and insights are the product of over a decade of independent research and policy work.
GSER 2023 ranks the top 30 and 10 runner-up global ecosystems, and includes a top 100 ranking of emerging ecosystems. It also takes a look at startup communities from a regional perspective, separately ranking ecosystems in Africa, Asia, Europe, Latin America, MENA, North America, and Oceania.

Explore the World's Startup Ecosystems
Which ecosystems should you care about? Where to invest next? Dive deep into startup ecosystems everywhere to gain data driven insights in each.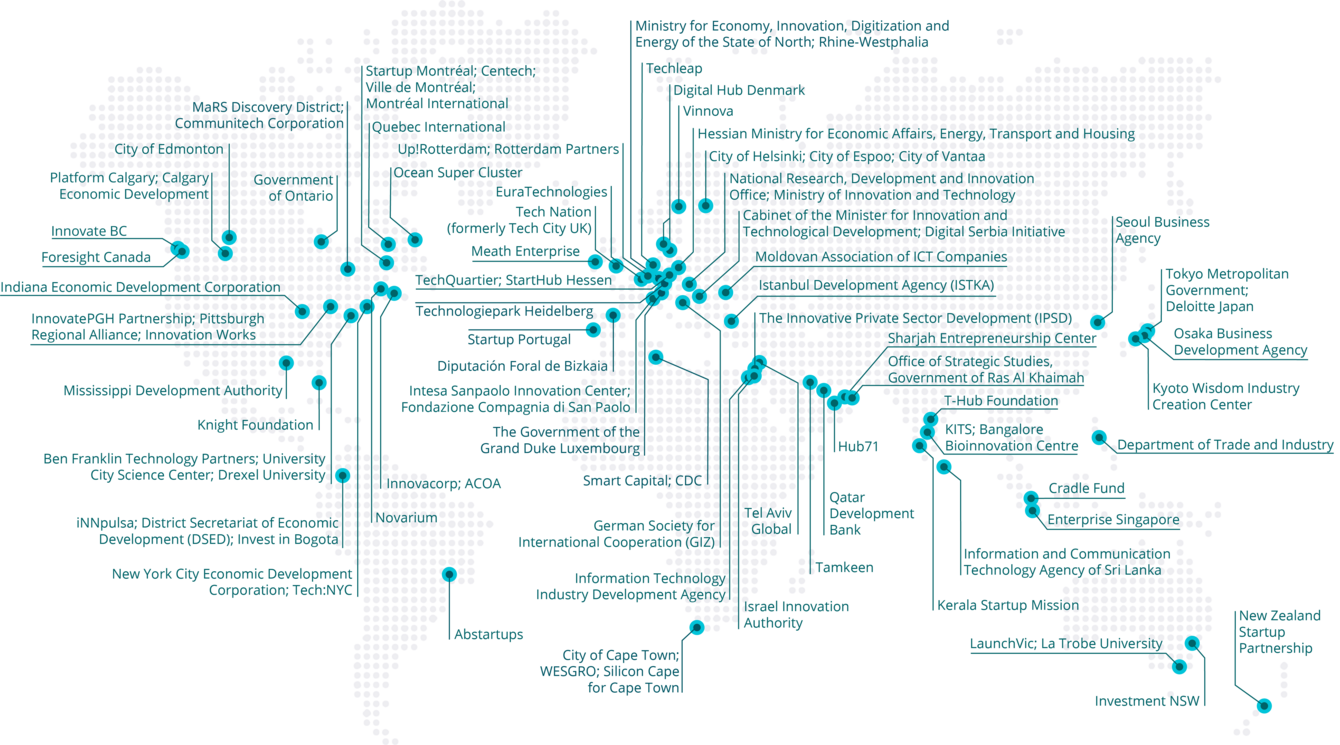 World-Leading Startup Ecosystem Development
While founders should lead the way, governments are feeders of ecosystem success. We work closely with innovation policy leaders everywhere, producing key insights and implementing best-in-class policies and programs.
Make better decisions and investments to help your startups to grow, scale, and give back in jobs and GDP. Join our global knowledge network and put your city on the map.
London's tech sector is going from strength-to-strength and I'm proud we're the tech and innovation capital of Europe. I hope this sends a clear message to aspiring tech entrepreneurs that the capital is a fantastic place to start a business.
Mayor, London, United Kingdom
We are proud to see our city jump 10 spots on the Global Startup Ecosystem Report, and are eager to dig in and do more work so we can continue to climb in the rankings. Tech isn't the economy of tomorrow, it is the economy today, and by working together with our regional partners, we can ensure that the tech ecosystem in Pittsburgh can create pathways towards prosperity for everyone in our city.
Mayor, Pittsburgh U.S.A.
It is neither Delhi nor Hyderabad! Bengaluru ranks above all in India in the Global Startup Ecosystem Report 2022. This ranking mirrors the confidence entrepreneurs & investors globally have in Namma Bengaluru's ecosystem. We continue to grow & expand our global footprint.
Minister of Science and Technology, Karnataka, India