The Global Startup Ecosystem Report 2021
Scaleups Will Take Over Latam
This contributed article was prepared by Patrick Alex in a personal capacity. The opinions expressed in this article are the author's own and do not necessarily reflect the views or position of Startup Genome.
Patrick Alex leads Access to Capital for the Endeavor office in Chile. A German native, he has been on the ground in the LatAm ecosystem for the last 4 years, previously as a VC at regional fund Nazca and for the last 2 years at Endeavor. He is also the host of
The Emerging Markets Enthusiast Podcast
, where he interviews leading entrepreneurs and VCs on their journey building and investing in tech scale-ups in emerging markets.
If you haven't paid attention to Latin America's startup and scaleup ecosystem then you are missing some remarkable developments. The last 5 years have been magical for the region, with dozens of new unicorns and unprecedented venture capital activity. And this is just the beginning. Startups and scaleups will take over Latin America, just as they have done in more mature markets. Their domination here may be even faster and more complete.
The United States and China have spawned tech companies that already are the most valuable in the world. As recently as 10 or 20 years ago, some of those companies did not exist. Latin America is starting to experience a similar trend, with Mercado Libre leading the way. The ecommerce giant is followed by tech companies like Magalu and Nubank, whose much-anticipated IPO might lead to a $100 billion market cap.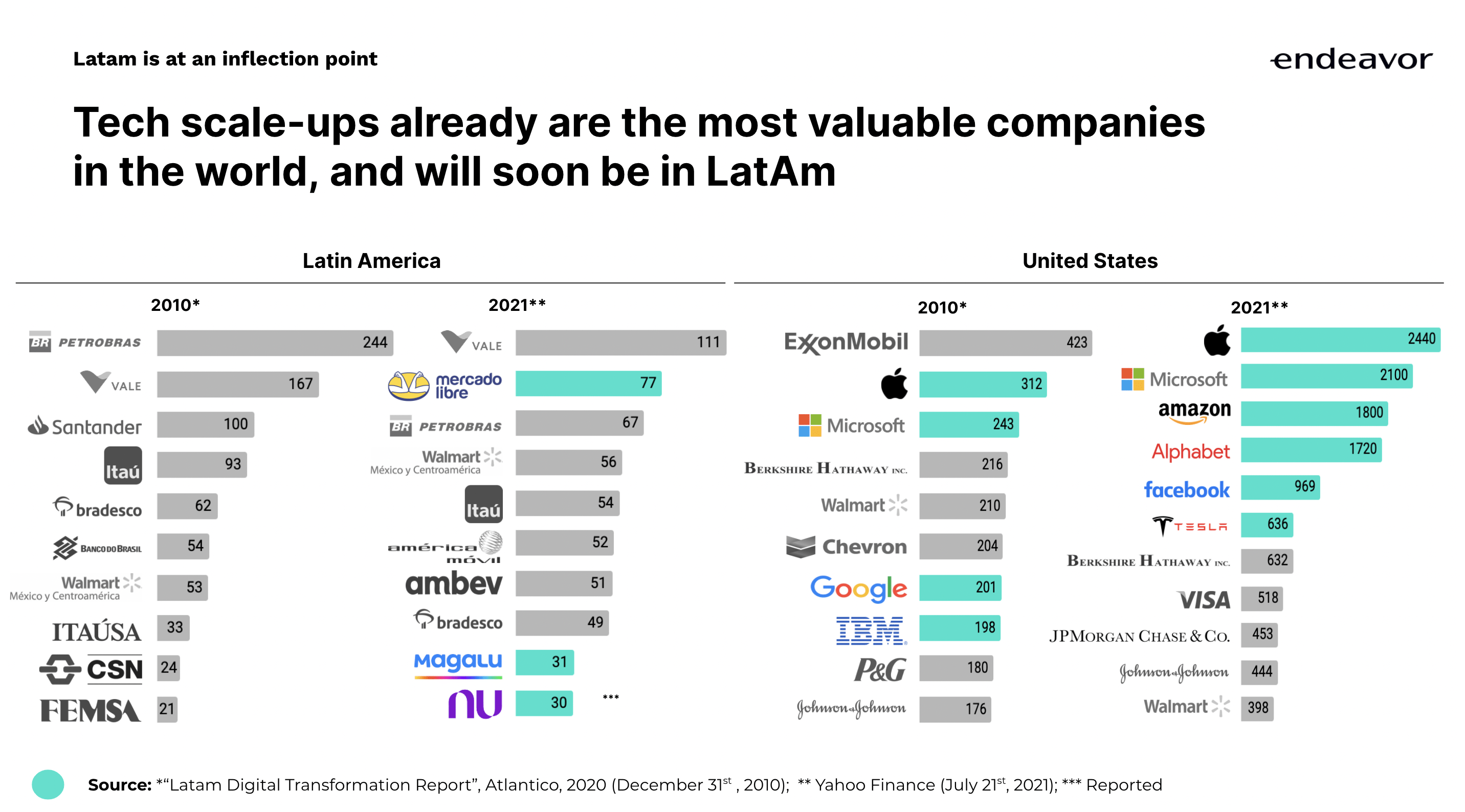 The same extraordinary progress is visible within individual countries. In Chile, for example, NotCo and Cornershop recently achieved unicorn status: the first two startups to do so. Both founded in 2015, they already are among the top 20 companies in Chile by market capitalization. Others--for example, Betterfly, Xepelin, and Fintual--will soon top the rankings. Brazil, Mexico, Argentina, Colombia, Uruguay, and Peru are all building strong ecosystems, with startups and scaleups reaching impressive marks. As happened elsewhere, the current generation of entrepreneurs will drive and expand these ecosystems, creating an enduring multiplier effect.
There is plenty of room for growth. Venture capital in Latam significantly lags its potential. Currently it is 14% the rate of the United States, proportional to GDP. But the market is huge (600 million people) and dominated by incumbents: great companies from the last century. Meanwhile, the rate of Internet adoption, especially among young people, is among the highest in the world. And Latin America now can claim those two words conservative investors look for: a track record. Four years ago there were no unicorns in Latam. Now there are more than 20, most backed by local and international investors.
We expect that in less than 5 years, at least 5 of the top 10 companies in Latin America will be tech startups, as is already true in the United States and China. The process in Latam will move even faster than in those countries. It took Apple 35 years to become the world's most valuable company, in 2011. Mercado Libre achieved that status for Latam in less than 20 years. Brazil's Nubank might surpass it in less than 10.
More than great companies, these startups and scaleups will solve tremendous problems in the region, from access to financial services to better health care and transportation. They will also create hundreds of thousands of high-paying jobs. The transformation is occurring in every sector, everywhere. Local scaleups will take over Latam, while creating a much better place for all.