Startup Ecosystem Acceleration in a Post-Covid World
Watch the exclusive policymaker & innovation community leader event
regional perspectives from startup ecosystems all over the world
HOW INNOVATION ECOSYSTEM ACCELERATION HAS EVOLVED
10/27, 8:00 am - 11:00 am BST (London)
10/27, 8:00 am - 11:00 am PDT (San Francisco)
This free, online event is a mix of research highlights and panels -
Global Report 2021: Presentation of major findings & high-profile input
Panels on trends and strategies on each region: Europe, African LATAM, APAC, MENA & North American Startup Ecosystem
The launch of the first-ever Life Sciences edition of our Global Startup Ecosystem Report, which provides even further research within the most extensive GSER to date. A panel will follow.
Watch the panels here: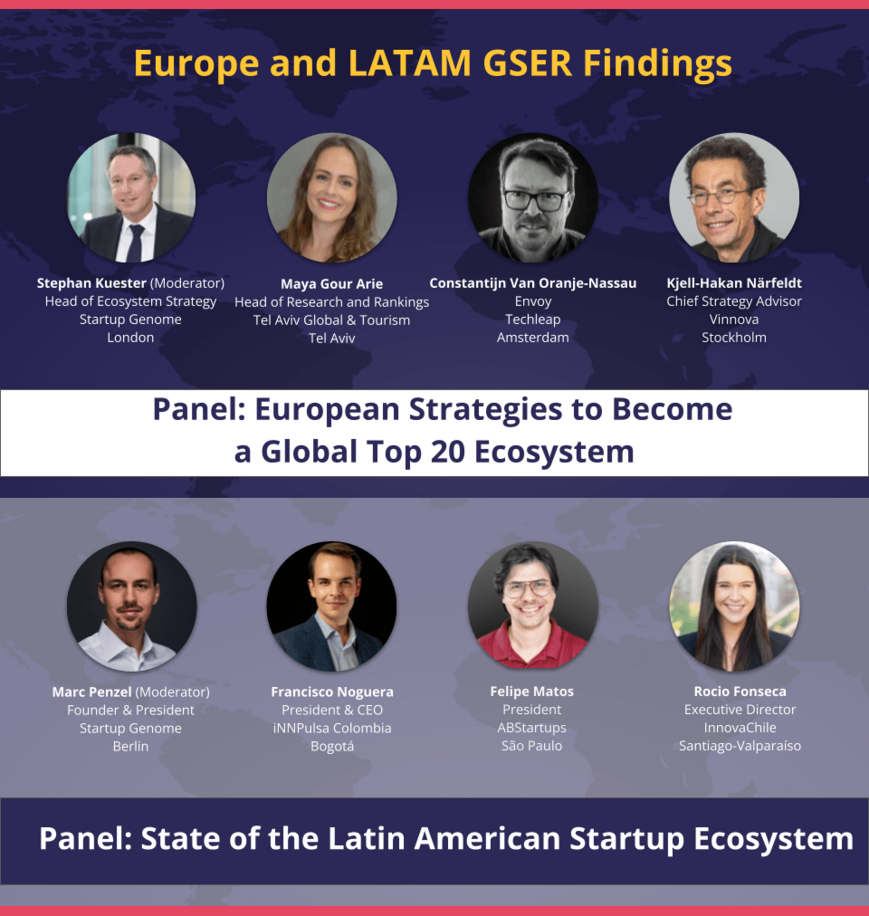 Europe & Latin America GSER Insights
Europe
Watch the panel: Here
Europe takes three out of the Top 5 spots when it comes to Connectedness (London, Berlin, and Amsterdam).

The number of billion dollar exits tripled in 2020 in Europe (from 3 to 9).

The average ecosystem value created by European startup ecosystems is $6.3 billion, the highest after North America.
Latin America
Watch the panel: Here
Late-stage funding (Series B+) has increased by 5x from 2015 to 2020 in Latin America.

Early-stage funding (Seed + Series A) in the same period has more than doubled.
The majority of early-stage funding in Latin America between January 2018 and June 2020 was in Artificial Intelligence and Big Data, with $248.5 million invested in the
sub-sector.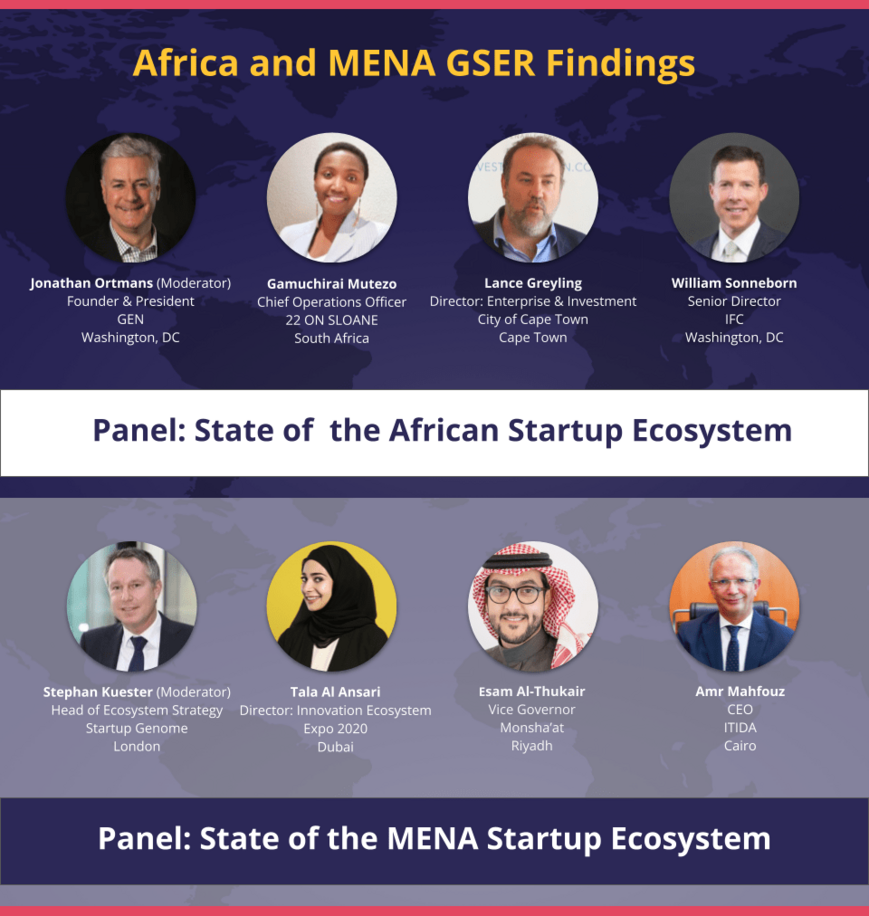 Africa & MENA GSER Insights
Africa
Watch the panel: Here
Average early-stage funding in African startup ecosystems in the 2.5 year period between 2018 and 2020 totaled $46.5 million, double the amount observed last year.

African ecosystems are collectively worth $6.6 billion, $6 billion of which is concentrated in the Top 5 African startup ecosystems - Cape Town, Lagos, Johannesburg, Nairobi, Accra.

Fintech dominates early-stage investment in Africa, with over $206 million invested in the sub-sector.
MENA
Watch the panel: Here
The total number of late-stage funding rounds in MENA almost doubled in the last 5 years, while the total late-stage funding amount has grown 2x.
Dubai jumped 7 spots to the #11 rank in the Top 100 Emerging Ecosystems.
Artificial Intelligence and Big Data is the leading sub-sector in MENA, with $3 billion invested in early-stage rounds, and $8 billion in exit value between January 2018 and June 2020.
Cairo ranks as the #1 MENA Ecosystem and Top 15 Global Ecosystem in Affordable Talent which is measured by the ability to hire tech talent.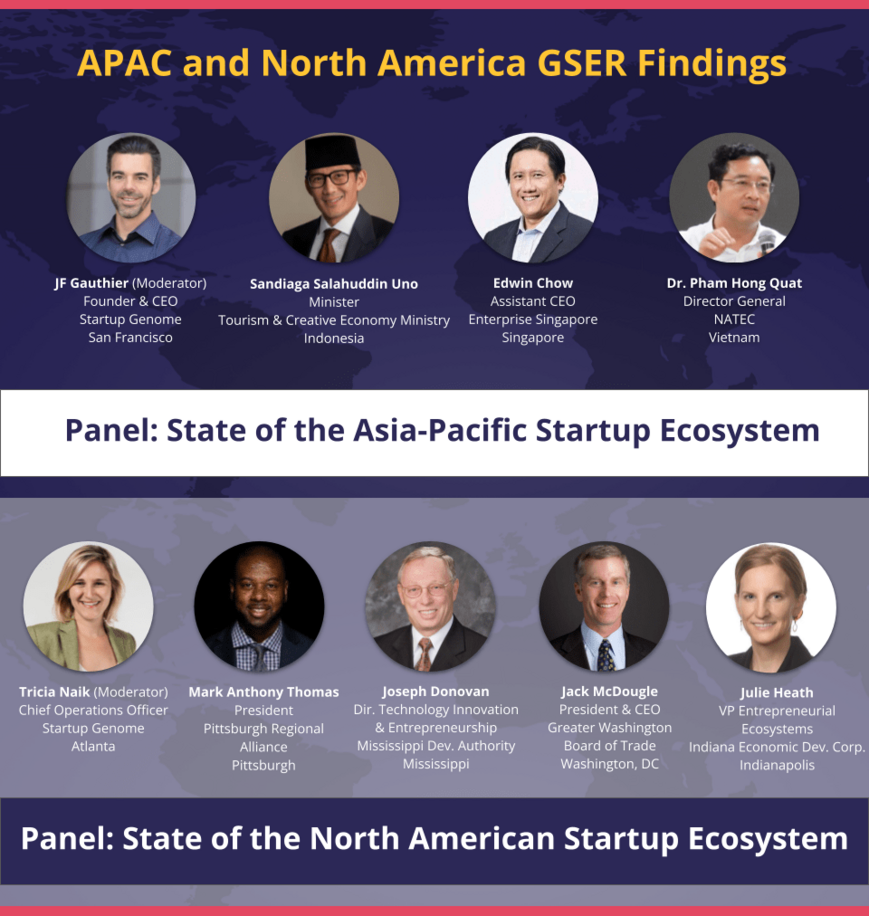 APAC & North America GSER Insights
Asia
Watch the panel: Here
Asian ecosystems continue to rise in the Global Startup Ecosystem Rankings — Tokyo (from #15 to #9), Seoul (#20 to #16), Shenzhen (#22 to #19), Bengaluru (#26 to #23), and Hangzhou (#28 to #25).
When it comes to the Knowledge factor, Asia takes 4 out of the Top 5 spots (Beijing, Shanghai, Seoul, and Guangzhou).

Asian startup ecosystems are now worth $1.1 trillion in Ecosystem Value, about 30% of the global total.
North America
Watch the panel: Here
North America contributed more than 50% to the global startup ecosystem value for the second year in a row.

North America produced more than 60% of the global unicorns in 2020.


Nine out of Top 20 Global Ecosystems are from North America.
Watch the whole event now!
Organised on Oct 27th at 8:00 BST (London) & PDT (San Francisco)