Accelerate Startup Ecosystem Development
Startup Genome is a world-leading innovation policy advisory and research firm, having advised on the ecosystem development strategy and action plans of more than 45 governments.
just launched!
Global Startup Ecosystem Report 2022
The world's most comprehensive research on startups, with data from over 3 million companies across 280+ entrepreneurial innovation ecosystems. In addition, this 10th-anniversary edition takes a look at how startup ecosystems around the world have evolved since 2012.

view the full report
Global Startup Ecosystem Report 2022
Since 2012, global average Series A rounds have tripled to more than $18 million.
Since the pandemic, tech companies grew 2.3 times more than their non-tech counterparts.
A record 540 companies achieved unicorn status in 2021, up from 150 in 2020, with 113 ecosystems producing at least one $1 billion+ behemoth.
The same five ecosystems remain at the top of the ranking as in 2020 and 2021, but Beijing has dropped one place, with Boston taking its former place at #4. Silicon Valley is #1, followed by New York City and London tied at #2, Boston at #4, and Beijing at #5.
North America continues to dominate the Global Rankings, with 47% of the top 30 ecosystems. Asia comes in second with 30%.
Seoul entered the global top 10 ecosystems for the first time. Helsinki has risen more than 20 places from last year to #35, Detroit moved up 13 places to #40 and Oslo moved up 16 places to #58.
Explore the World's Startup Ecosystems
Which ecosystems should you care about? Where to invest next? Dive deep into startup ecosystems everywhere to gain data driven insights in each.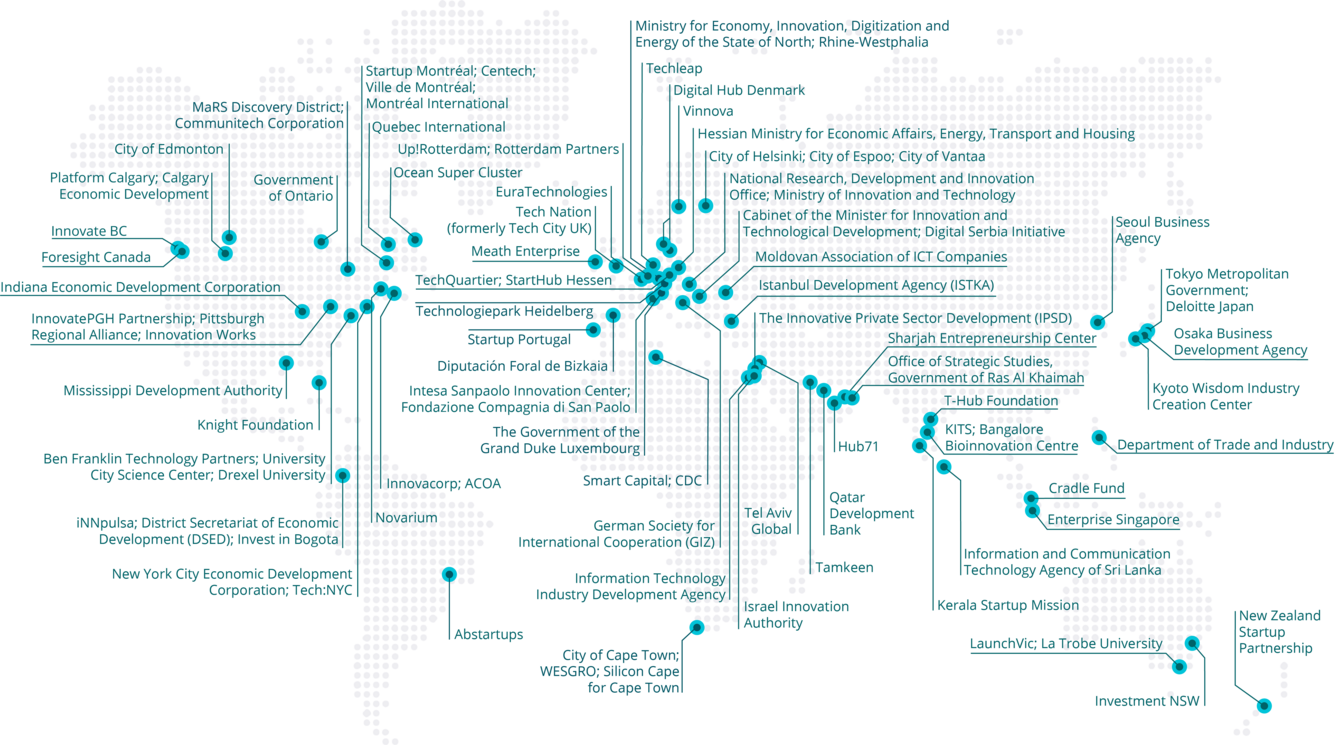 World-Leading Startup Ecosystem Development
While founders should lead the way, governments are feeders of ecosystem success. We work closely with innovation policy leaders everywhere, producing key insights and implementing best-in-class policies and programs.
Make better decisions and investments to help your startups to grow, scale, and give back in jobs and GDP. Join our global knowledge network and put your city on the map.
London is a fantastic place to grow and scale a global tech business. We celebrate the diverse, international nature of our tech ecosystem and it is great to see our thriving startup community being recognised in this report.
Mayor, London, United Kingdom
Glad to see our city was recognised once again for our talented and creative human capital. According to Startup Genome's annual report, Tel Aviv-Yafo ranks #7 out of 140 technology cities in the world. We shall continue our efforts to maintain our position as the "Startup City
Mayor, Tel Aviv, Israel
As the Deputy Mayor for Economic Policy at the Seoul Metropolitan Government, I'm very impressed by Seoul's remarkable rise to 16th place in the Global Startup Ecosystem Rankings, which has arrived in four steps from 20 to last year. Very pleased to see the growth of Seoul's ecosystem over the last year.
Deputy Mayor, Seoul, South Korea